What is this mode?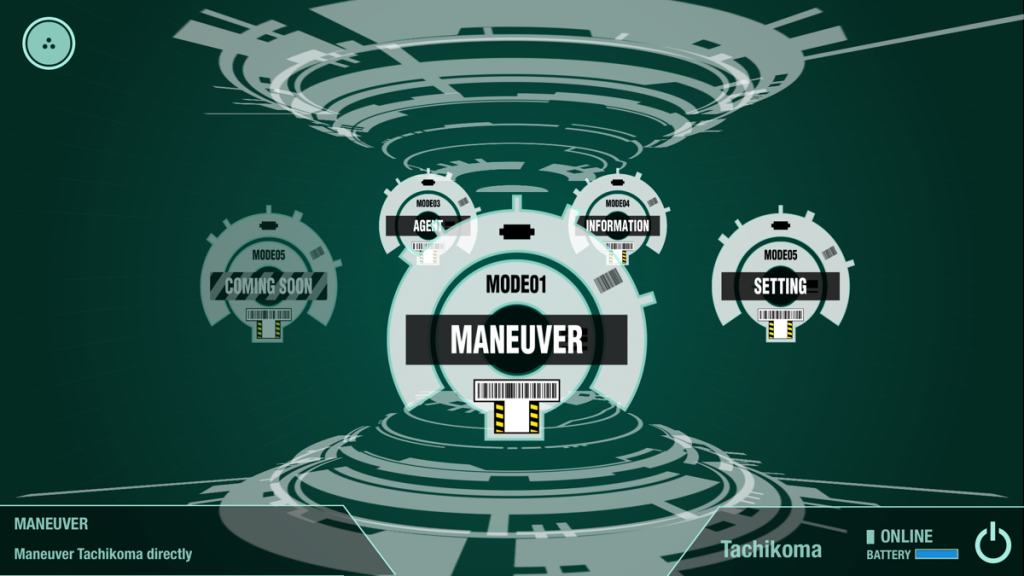 You can maneuver Tachikoma in this mode via video from Tachikoma's camera.
Preparation
Make sure that your smartphone and Tachikoma are connected to the same local network (LAN) to use MANEUVER mode.
Tachikoma can not move when it's charging. Remove the AC adapter before you use MANEUVER mode.
Please ensure the safety of the surrounding area before moving Tachikoma.
Tachikoma Runs
Select [RUN].

Tachikoma will move by swiping each operation area on the app.

 Tachikoma Walks
Select [WALK]

Tachikoma will move by swiping the operation area on the app.
Tachikoma can walk only forwards. It cannot walk backwards, turn left or right.

Perform actions
You can make Tachikoma perform pre-installed actions.
Tap [Action].

Select the action you want Tachikoma to perform.

Move Tachikoma's camera
Tap [Attention].

Tap and drag on the "Attention" panel. Tachikoma's camera will move in accordance with input from the app.